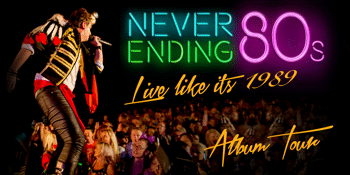 The Harbour Agency
Never Ending 80s - LIVE Like its 1989!
Kingscliff Beach Hotel (Kingscliff, NSW)
Sunday, 25 November 2018 3:00 pm
NEVER ENDING 80s - LIVE LIKE ITS 1989! ALBUM TOUR
There's no other decade like the 80s. It was THE era of BIG HAIR, BIG HITS and BIG FUN. NEVER ENDING 80s take you back to Party Like Its 1989 with a night packed full of the biggest hits by the biggest artists ever.
The Decade that was the 80s was awesome and with that decade came with THE BEST soundtrack - Now, The Never Ending 80s band are bringing you that soundtrack recorded LIVE like its 1989!. The 17 track Album was recorded in front of 1500 screaming fans at Waves in Wollongong, as they carve their way through the music of Prince, Cyndi Lauper, INXS, Michael Jackson, Whitney Houston, as well as so many other giants, you'll be dancing and singing along to all of your 80s tunes. LIKE TOTALLY..!
To celebrate the release of LIVE like its 1989! - The Never Ending 80s are hitting the road and offering fans a special discounted digital download ticket package saving $5.00 off the price of the album
LIVE like its 1989! - Track Listing
(1) We Built This City
(2) Don't You Forget About Me
(3) Girls Just Want To Have Fun
(4) I Wanna Dance With Somebody
(5) I Want To Break Free
(6) Billie Jean
(7) Wanna Be Startin' Somethin'
(8) Beat It
(9) Freedom! '90
(10) Faith
(11) INXS Mash UP - Devil Inside / I Send A Message / Need You Tonight / What You Need / New Sensation (1Track)
(12) Eternal Flame
(13) 1999
(14) Raspberry Beret
(15) Kiss
(17) I'm So Excited
(17) Rebel Yell